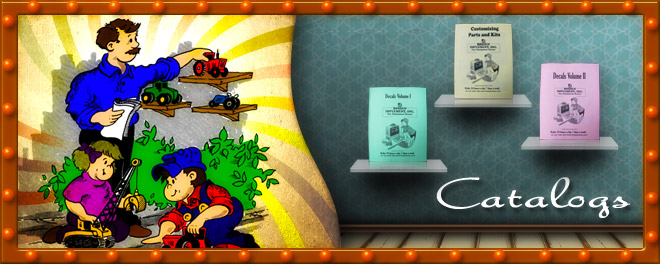 Request a Catalog
Click on a link below to download and print free copies of our most current catalogs.
Please be patient as some of the catalogs are large files and it may appear that your computer is not doing any thing.
You can save these catalogs for offline viewing by right clicking the text below the catalogs and selecting Save Target As.
Bossen Implement Catalogs
Ertl Catalogs
Spec Cast Catalogs
Scale Models Catalogs
Universal Hobbies Catalogs
AGCO Catalog
First Gear Catalogs
You must have Adobe Acrobat Reader installed on your computer.
Click on the link to download it free from Adobe.com
If you wish to order Bossen Implement copies by mail, we will ship priority mail, both our inventory update and our parts catalog to you for $5. The $5 will be refunded with your first catalog order. Mail us your name and address along with a check or money order for $5.00.